Engelbart's Role in Early Computer Networking 0
Before the Internet there was the ARPANET, the first distributed computer network, which was established in 1969. Following is some background on the role Engelbart and his SRI lab played in the early formation of the ARPANET, which led to the Internet.
The 2nd Server on the ARPANET 1
In the late 1960s, Bob Taylor [1] at the US Advanced Research Projects Agency (ARPA) launched an initiative to network the computer labs they were funding to make it easier to access and share the computer resources remotely. He enlisted several of those labs to help implement this network, which was being developed by Bolt, Beranek, and Newman. One of the labs chosen was Doug Engelbart's Augmentation Research Center at Stanford Research Institute (now SRI International). When it came time to test transmission over the network between the first two hosts, the task fell to two young programmers -- Bill Duvall in Doug's lab in Menlo Park, CA, and Charlie Kline in Len Kleinrock's lab at UCLA, in Los Angeles, CA.
"On October 29, 1969, the world's first electronic computer network, the ARPANET, was established between nodes at Leonard Kleinrock's lab at UCLA and Engelbart's lab at SRI. Interface Message Processors at both sites served as the backbone of this first [network]"[2]. The first message sent between them was to be "log" from UCLA to SRI, and "in" from SRI to UCLA ("login") but the computer crashed after the first two letters so the first message between computers was simply "lo". (see [2] for more on this story).
The ARPANET dovetailed beautifully into Engelbart's research agenda. For years he had envisioned intellectual workers sitting at computer working stations flying around vast information spaces, connecting with one another to collaborate. His research began in earnest in the early 1960s, with funding from ARPA and the US Air Force to develop this vision of interactive computing with the goal of "augmenting the human intellect." By 1968 his lab had a fully operational collaborative hypertext system called NLS (see our 1968 Demo page). That same year, ARPA announced plans for its ARPANET initiative. Engelbart was thrilled about the potential for distributed networking, and for NLS to be accessed over the network to support whole communities of knowledge workers. In addition to collaborating on ARPANET development, Doug was awarded the funds to set up the first ARPANET Network Information Center (the NIC) to support the early ARPANET community.
His lab then set to work extending NLS provisions for community support[3], including integrated hyper-email and an automated online publishing facility (the "Journal"). By 1978 there were 5-6 mainframes running NLS over the ARPANET, as well as over early commercial networks, to support a variety of user organizations and communities.
This map shows the entire ARPANET in 1969 with the first four nodes, including Engelbart's lab at SRI. Click the map to see full size at the source site which maps its growth over time.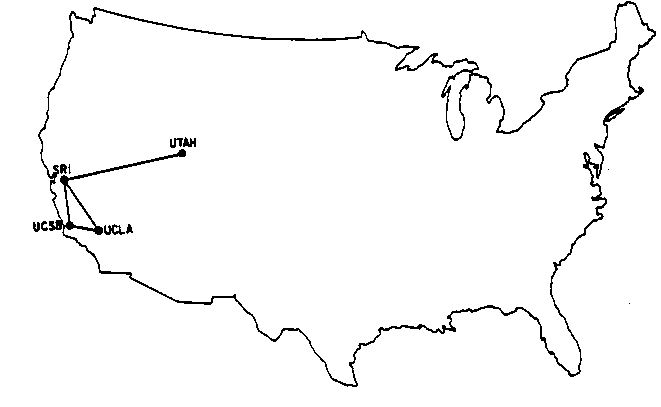 By 1972 there were 37 nodes on the ARPANET. Soon other networks spang up, such as the commercially-available Telenet and Tymnet, each in isolation of the other, as there were as yet no provisions for communicating between the different networks. The Internet later emerged as an architecture for internetworking, extending this single-network design to any number of networks, which would allow every host in a network to communicate with every host on every other network that became a part of the system.
See Also 2
In the News 2a
From the Internet 2b
From Doug's Lab 2c
"The Mother of All Demos" (90 min Video/Film) Doug's 1968 debut of NLS (Augment's precursor) including hypermedia, the mouse, collaborative work, interactive computing, human computer interface, and overarching guiding principles. See especially Clip 32 and Clip 33 where Doug outlines the participation of ARC in the planned ARPA computer network to be established within the next year (1969).


Following are references to the passages from Engelbart's papers in the late '60s and early '70s which highlight his lab's orientation for Network Implications prior to and during the formation of the ARPANET, all directly related to today's World Wide Web as well -- Knowledge Management, Collaboration, etc.



Augmenting Human Intellect: A Conceptual Framework, Douglas C. Engelbart. SRI Report, 1962, see especially what he envisioned for accessing the computers remotely via 'workingstations' in this 'backcast' section 7. Team Collaboration.


The 1968 paper they published in the FJCC Conference Proceedings has been somewhat masked by the publicity given to the online presentation they gave at the Conference, but it outlined in detail the hardware, software and functionality of the NLS system:

A Research Center for Augmenting Human Intellect, Douglas C. Engelbart and William K. English, AFIPS Conference Proceedings of the 1968 Fall Joint Computer Conference, San Francisco, CA, December 1968, Vol. 33, pp. 395-410.


In 1970, Larry Roberts organized a small conference at University of Texas in Austin: The Interdisciplinary Conference on Multi-Access Computer Networks. Each solicited speaker was to address his relevant "Implications of Multi-Access Computer Networks." For instance, Larry's was "Economic Implications." Engelbart's was "Intellectual Implications":

Intellectual Implications of Multi-Access Computer Networks, Douglas C. Engelbart, Stanford Research Institute, 1970 (AUGMENT,5255,). From Proceedings of The Interdisciplinary Conference on Multi-Access Computer Networks, Austin, Texas, April 1970. See particularly topical sections relevant to the shape of today's emergent web-based changes:


A High-Level Framework for Network-Based Resource Sharing, James E. White, AFIPS Conference Proceedings, 45, National Computer Conference, June 6-7, 1976, pp. 561-570 (AUGMENT,34263,).
---
Footnotes: 3
ARPA stands for Advanced Research Projects Agency, now DARPA or Defense Advanced Research Projects Agency, a funding agency of the US Department of Defense which was the major source of R&D funds for early computer and network research. For Bob Taylor's rendition of events, see his one on one discussion with John Markoff at the Engelbart and the Dawn of Interactive Computing event.
Recent press coverage of the 40th anniversary of the Net:
Article: Internet Began 35 Years Ago at UCLA with First Message Ever Sent Between Two Computers, UCLA Engineering, Oct 29, 2009
Radio: 40 Years Later, Looking Back At The Internet's Birth, NPR All Things Considered [broadcast transcript]

For details on collaboration support built into NLS see also Engelbart's Pioneering Firsts - The "Father of Groupware"