HyperScope 1.0 Basics 0
Hyperscope 1.0 was a browsing tool developed in 2006 that showcased many of the viewing and navigating features called for in Doug Engelbart's open hyperdocument system (OHS). This tool has been replaced by the all-new Hyperscope 2.0. The OHS framework supports dynamic knowledge repositories (DKRs) for purpose of enhancing Collective IQ.
See Resources below for links to HyperScope 1.0 demos, downloads, tutorial, etc.
Features Summary 1
HyperScope 1.0 provides enhanced power and efficiency to your internet browser in a simple, easy-to-use format. HyperScope 1.0 is enabled when browsing webpages tagged for this purpose. The simplest form of HyperScope browsing offers these value-added features: 1a
All designed to provide unified access into a "living" repository of documents, email and other dialog records, intelligence collections, briefings, source code, workflow, etc. 1b
Features Detail 2
Here is a basic description of each feature: 2a
Zoom Buttons visible on the left when you mouse over each paragraph. A zoom button jumps that paragraph to the top of the screen thusly: 2a1
the Left zoom button jumps with a ZOOM OUT outline view 2a1a
the Middle zoom button jumps with a ZOOM IN outline view 2a1b
the Right zoom button jumps with a normal open view 2a1c
Resources 3
Watch HyperScope demos by lead developer Brad Neuberg and others at our demo portal. 3a
Visit the HyperScope 1.0 project website at hyperscope.org/hyperscope1.0 to learn more and try it yourself.
3b
See also About OHS, and our Technology Showcase to learn more.
3c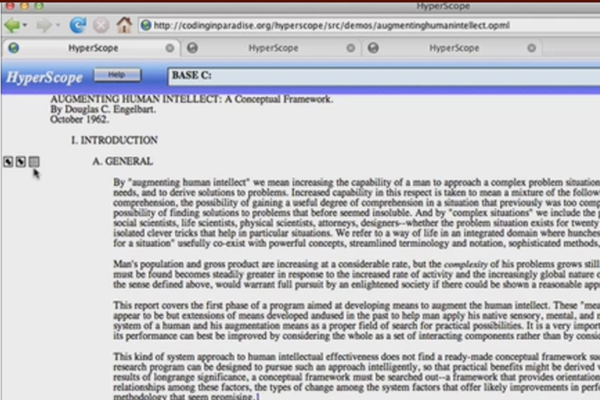 ---
Multiple views of the same document, Authorship Provisions in AUGMENT, browsed using HyperScope: